ใจจำลอง
Come Here
a film by Anocha Suwichakornpong
69 minutes, Thailand, 2021, Black & White 4:3 Aspect Ratio, 5.1 Sound, in Thai with English subtitles
Synopsis:
Four friends in their mid-twenties go to Kanchanaburi, west of Thailand, on a trip. They visit the World War II memorial site of the 'Death Railway', built to honor tens of thousands war prisoners who lost their lives here.
At night, back at the raft house, they are drinking, smoking weed, and talking randomly. Once in a while, someone would act out a scene from a play – it turns out they are all actors in the same theatre company.
Running parallel to this narrative is the story of another woman who finds herself alone in the middle of the forest after her friend mysteriously disappears. The four friends in the raft house say something that might allude to that woman, but it is not certain. The woman finds a natural stream. She drinks, washes her face, and then goes into the water. Her face begins to transform into another person's.
It's getting late, all the friends are intoxicated. Some pass out in the bedroom. Only two are left by themselves. Romance is in the air.
Fireworks go off, one after another, high up in the night sky. Each of them begin to wake up and they all stand still, watching the beautiful fireworks shooting up the sky and disappear one by one.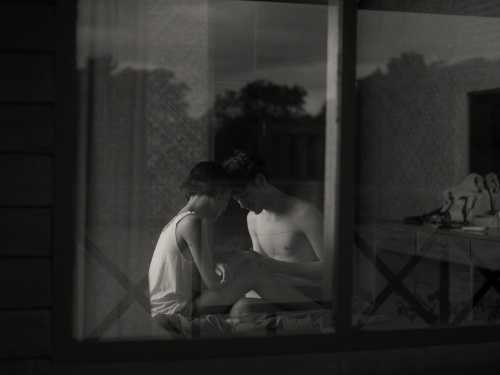 With Supports from:
Hubert Bals Fund
Next Masters Support Program, Talents Tokyo
The Film Study Center at Harvard University
Visions Sud Est
About the Director:
Anocha Suwichakornpong is a filmmaker whose work is informed by the socio-political history of Thailand. Her films have been the subject of retrospectives at the Museum of the Moving Image, New York; TIFF Cinematheque, Toronto; Cinema Moderne, Montreal; and Olhar De Cinema, Brazil.
BY THE TIME IT GETS DARK, Anocha's second feature, centres around a student massacre that took place in 1976 by Thai state forces and far-right paramilitaries at Thammasat University in Bangkok. It premiered at Locarno Film Festival and was presented at festivals worldwide, including Toronto, BFI London, Viennale, and Rotterdam. The film won 3 Thailand National Film Awards including Best Picture and Best Director. In 2017, it was chosen as Thailand's Oscar entry for Best Foreign Language Film.
MUNDANE HISTORY, her first feature, won numerous awards including the Tiger Award at Rotterdam. An allegory for the current political situation in Thailand, the film focuses on the relationship between a father and his paraplegic son. Her third feature, KRABI 2562, co-directed with British filmmaker Ben Rivers, explores a town in southern Thailand. The film also premiered at Locarno and has been touring the festival circuit. Anocha received her MFA from Columbia University, with her thesis film, GRACELAND, becoming the first Thai short film to be officially selected by Cannes Film Festival.
In 2017, together with Visra Vichit-Vadakan and Aditya Assarat, she founded Purin Pictures, an initiative to support Southeast Asian cinema. Currently, Between 2018 and 2020, Anocha was a visiting lecturer at the Department of Art, Film, and Visual Studies at Harvard University. In 2019, Anocha was named a Prince Claus Laureate.
www.electriceelfilms.com